Follow the Yellow Brick Road
Emerald City! How exciting! Oh, but the yellow brick road is long, and it will take such a long time to get there, unless you can find a better way...
I know - what if you built your own yellow brick road? It wouldn't be hard, you just need to find a few bricks. I know there are some to the west, but I'm not sure how to get there. Here's an old map.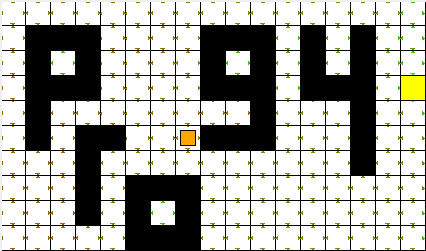 One word of warning: beware the wicked witch of the west! If she catches you making mis-steps, she will steal your bricks... or worse!
2's and 4's and 5's - oh my!
What's this? A secret message scrawled on a piece of paper?
It will take all period to type this in! Do you have the courage to find another way?
If I Only Had A Brain...
You're just in time to help! I'm supposed to plant a new row of plants, but I'm having trouble knowing what to plant. The wicked witch gave me the following instructions:
A + B = ?
🌽+🍓=🍓
🌽+🌽=🌽
🍓+🌽=🍓
🍓+🍓=🌽
Huh? If I only had a brain, I could probably figure out what to plant where... Oh! You know how to simulate a brain? Can you simulate one for me??
The brain I want most looks like this:
A feed-forward neural network with backpropagation
One hidden layer with five nodes
Uses the sigmoid as activation function
Accept two binary inputs, gives one binary output
Can you make me a brain that knows what to plant? If you do, bring back the synaptic values for me so that I can get planting before the wicked witch comes back!
What Does It Mean to Have a 💖?
Most of us like to think of ourselves as people who use our time to do good in the world. We offer encouragement to classmates, hold the door for people behind us, and definitely don't spend our lives creating a superintelligent computer program to eternally punish humanity in both reality and simulation... right?
Read about Roko's Basilisk and take a moment to think about it. Clarify the decision you face and discuss with your classmates. Then, take one of the magnetic X's on the table and place it on the board to commit to your choice: will you dedicate your life to building Roko's Basilisk, or risk eternal punishment?
Once you declare your choice, get a clue from Ms. Pries. Be prepared to defend your decision!